Christ The King: Our Saviour, Our Bridegroom, Our Friend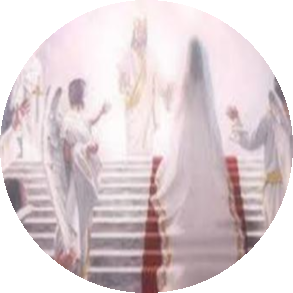 The Song of Songs, which is Solomon's.
The Bride Confesses Her Love:
Let him kiss me with the kisses of his mouth! For your love is better than wine; your anointing oils are fragrant; your name is oil poured out; therefore virgins love you. Draw me after you; let us run. The king has brought me into his chambers.
Others Say:
We will exult and rejoice in you; we will extol your love more than wine; rightly do they love you.
And Then The Bride Continues:
I am very dark, but lovely, O daughters of Jerusalem,
like the tents of Kedar, like the curtains of Solomon. Do not gaze at me because I am dark, because the sun has looked upon me. My mother's sons were angry with me; they made me keeper of the vineyards, but my own vineyard I have not kept!

In Song of Solomon 1:4, we find that the bride calls her Beloved Bridegroom, "My king". "The king has brought me into his chambers." We have to know Jesus as our King before we can know Him as our Bridegroom. Many Christians never enter into a love-relationship with the Lord, because they do not know Him as Lord and King over all their lives. Some area in their lives still remains unyielded.
In Song of Solomon 1:5 we read about "the daughters of Jerusalem"or "the women of Jerusalem". "I am very dark, but lovely, O daughters of Jerusalem" Who are the daughters of Jerusalem?
The phrase "daughters of Jerusalem" was first used in the Song of Solomon. These are the ladies of the court, the wives of Solomon's political marriages, potential brides for future arrangements, as well as the wives of Solomon's noblemen who attend him at court.
Being leading ladies, they often influenced the way others behaved; because of this we read in Isaiah's, that God charged them with spreading filth that God must wash away. "And it shall come to pass, that every one that shall be left in Sion, and that shall remain in Jerusalem, shall be called holy, every one that is written in life in Jerusalem. If the Lord shall wash away the filth of the daughters of Sion, and shall wash away the blood of Jerusalem out of the midst thereof, by the spirit of judgment, and by the spirit of burning." (Isaiah 3:4).
This phrase also refers to half hearted believers, who do not love the Lord with all their hearts. They are the ones who are taken up with the socializing and different projects and gatherings with in the Parish but not with personal devotion to Jesus. They don't live in sin. But they do not love the Lord fervently either.
The Lord is looking for those who have the heart of a Bride, who are devoted to Him and whose service comes out of that heart of love.
The bride told these women, "I am black but lovely" (Song of Solomon 1:5).
When she states that she is "black," she is NOT referring to her race, but to the fact that her skin has become darkened by the sun. She likens her dark skin to the "tents of Kedar." Kedar means "black" and was the name given to the descendants of Ishmael who were nomads living in tents made of black goats' hair. She no doubt felt insecure in the company of such "fair-skinned" maidens in Solomon's court. This is borne out in verse 6 where she says, "Do not gaze at me because I am dark, because the sun has looked upon me. " She has become black by spending so much time in the sun and she elaborates on this by saying, "My mother's sons were angry with me; they made me keeper of the vineyards, but my own vineyard I have not kept! " Her brothers forced her to work out in the sun all day long. When she adds, "I have not taken care of my own vineyard," she is probably referring to not having time to take care of herself, including her appearance.
And although she was unattractive, yet her King, her Bridegroom had chosen her.
The Bible says that God has chosen the poor and the foolish of the world primarily, and not the mighty and the noble and the clever (1 Corinthians 1:26-29). Some of us may perhaps feel like that, "I am not capable like other people. I am not intelligent. I can't speak like others. I am so limited in my abilities." Yet the Lord has chosen us!
There were prettier, more fare women in Jerusalem. But the King chose the one darken by the sun.
Jesus does that, because He looks for qualities of the heart and not for appearance, gift or capabilities.
We must learn something here. All our natural abilities, family background and accomplishments are not really of any value to God. It is a heart of devotion that He looks for. This is what the Lord seeks when He looks for someone to be His.
The bride knew that even though she was dark, she was beautiful in her Kings eyes. Many married women suffer because they don't feel that their husbands really accept them and rejoice in them. I hope all of you husbands are rejoicing in your wife. It's very important that your wife knows that you rejoice in her. In the same way, many believers don't realize that the Lord rejoices in them. Zephaniah 3:17 says, "The Lord your God in your midst is mighty. he will joy over thee with singing. " God is very happy to have us as His children. Do you know that? We may be ugly in man's eyes, but we are beautiful in God's eyes.
(Song of Solomon 1:6) "Do not consider me that I am brown, because the sun hath altered my colour" in other words "Don't look down on me, you beautiful, fair, city girls". She was an uncultured, village girl and the refined city-girls of Jerusalem looked down on her. But her Bridegroom and King ignored all the smart, charming, city girls and chose that village girl. That is how the Lord has chosen us. Praise the Lord for that! Are other believers looking down on you? Don't get discouraged, for you are precious to your King! Ezekiel 16 is a beautiful chapter that describes how God picked us up when we were filthy and rotten and neglected, lying helpless by the roadside.
In Song of Solomon 2:1, the bride says, "I am just a rose in Sharon. I am just a lily in the valley." Those expressions (by the way), do not refer to the Bridegroom, but to the bride.
Many songs refer to Jesus as the "rose of Sharon" and the "lily of the valley". But those are un-Scriptural expressions.
It is the bride saying to the Bridegroom, "I am just an ordinary rose in Sharon. There are thousands of roses in Sharon and I am just one of them. I am just an ordinary lily in the valley." But the Bridegroom says, "Yes, that may be true. But you're a lily in the midst of thorns" (Song of Solomon 2:2). Those fair, attractive women in Jerusalem were good looking on the outside, but they were like "pigs with golden rings in their noses" (Proverbs 11:22) - attractive, but without devotion to the Lord. So the King likens them to thorns. In the midst of those thorns, his bride was like a lily.
In Song of Solomon 5:16 the Bride describes her King as "altogether lovely, he is my beloved and my friend." Can you say that Jesus the King of Kings is not only your Saviour, but also your Friend? Let Jesus be your closest and dearest Friend.